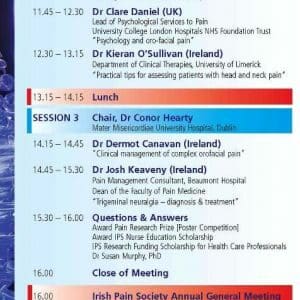 The Irish Pain Society Chapter of the International Association for the Study of Pain is holding its 14th Annual Scientific Meeting on Saturday 6th September in Dublin.  This event is only open to healthcare professionals and will focus on Orofacial Pain Classification & Management.  With a wealth of speakers from both Ireland and the UK the event is CAI Awarded with 5.5 CPD points/6 NMBI credits.
To register goto http://www.irishpainsociety.com/index.php/annual-scientific-meeting-2014/
A representative from CPI will be attending on the day.