Since 2016 Nikki Bray has organised an annual walking event and fundraiser with all proceeds raised for Chronic Pain Ireland's support services.  This event takes place the first weekend in September to coincide with Pain Awareness Month.  With the opening of Youghal Eco-Boardwalk, not only is it is a terrific day but it is a disability and access friendly space, with fantastic views and resting points so please do come along and take part. Families, furry friends, locals, visitors (no matter what you're capabilities) all always welcome.
Youghal Eco-Boardwalk is a 1.9kilometre hardwood panelled beach walk-way, stretching from Claycastle Beach out to Redbarn Beach, both of which hold Blue Flag Status for 2021.  It is totally disability-access friendly with interspersed seating along the route, facilitating easy access for the elderly, people with limited mobility, wheelchair and pushchair users.  Making this a perfect opportunity for those living with chronic pain, to set your own pace, rest where needed and choose your own start and finish points.
Nikki writes: "In 2014 I was diagnosed with a congenial spinal defect, in 2015 I organized a walk on the beach in Youghal (walking on sand can be good for the spine) with family and friends, mainly to thank them for their support and celebrate how far I'd come in one year! Of course we had tea and cake afterwards! It was mentioned that year that I should of fundraised at the walk, so in 2016 I decided to do it again and fundraise for Chronic Pain Ireland.  That year I did it in October on spine awareness day (the first year Annie our mascot joined us, I figured skeletons and spine go together).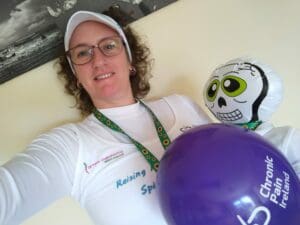 This year, the sun shone (we're normally very lucky with the weather) and we had a great and mixed group of able bodied and those living with chronic pain who turned out to take part and support this year's event.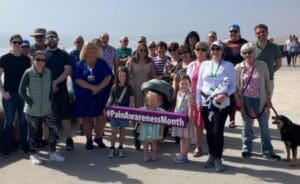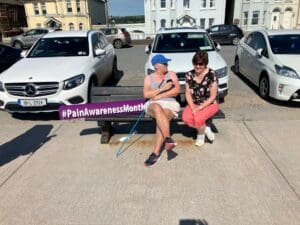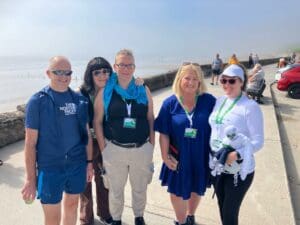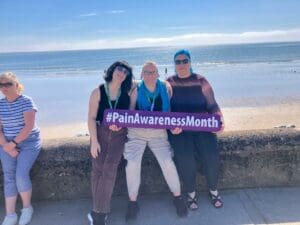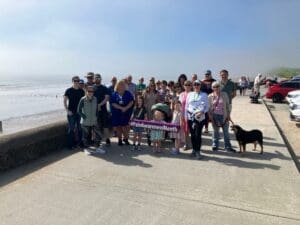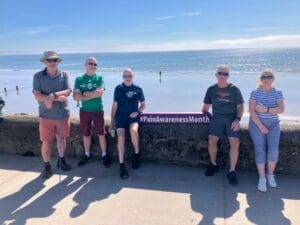 Nikki's sister who lives in Tenerife also holds an event locally to support Nikki and this year she focused on raising awareness of hidden disabilities.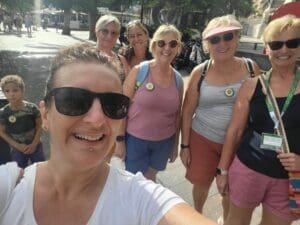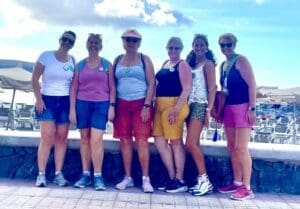 Listen here to recent radio interview with CRY104FM as Nikki outlines the 2023 Pain Awareness Campaign.
On behalf of all in Chronic Pain Ireland we thank all Nikki for her annual fundraiser in aid of Chronic Pain Ireland.  To all who came out to support and take part, we very much enjoyed meeting you on the day and hope to see you at future events.